X Shore contribute to shaping the future sustainable economy –
one that serves the needs of both today and tomorrow.
Range 100NM - 30+ Knots - Electric Motor 170kW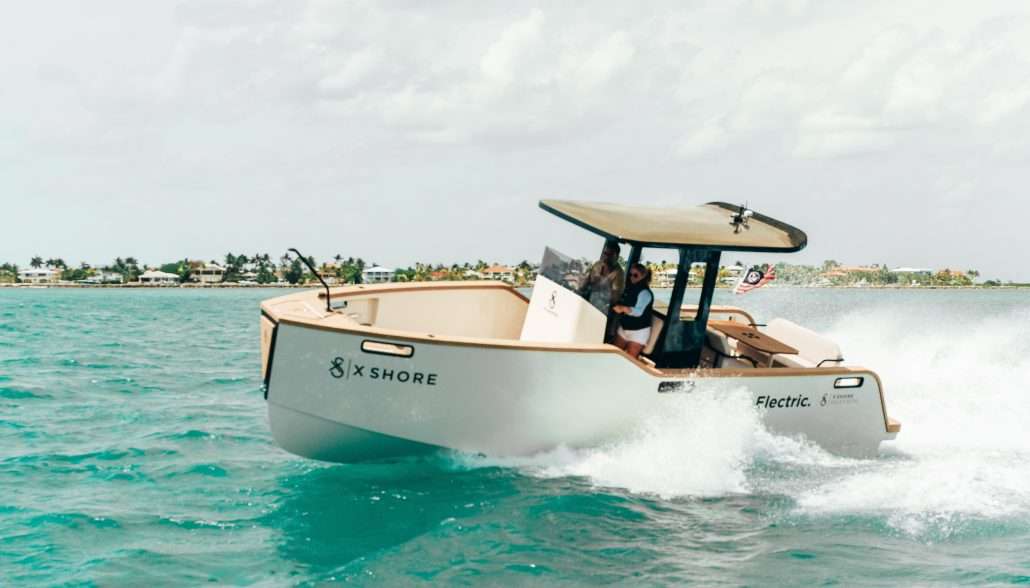 The power of silence | Experience the technology onboard the Eelex 8000
Explore the oceans, lakes and nature with the 100% electric Eelex 8000. The planing boats of X Shore are equipped with first-class technology and stand for a modern lifestyle on the water. The powerful electric motor of the Eelex 8000 delivers up to 225 kW and is powered by a 126 kWh lithium-ion battery pack. Enjoy a range of up to 180 km at lower speeds, and a top speed of 65 kmh.
​Smart technology allows you to interact with your boat. Via the X Shore app or a Garmin watch the owner can receive updates like the state of charge and location.
Design
The full electric X Shore crafts with Scandinavian design are built to enjoy recreational and sportive activities in a sustainable way. Every part of the Eelex 8000 is engineered from the ground up to take maximum advantage of the powerful all electric drivetrain and other integrated on-board and cloud connected systems for an unparalleled driving experience. Throughout, the materials used in the Eelex 8000 are carefully selected for optimal performance, functionality and sustainability. The roof above the center-console is extremely strong and is made of an advanced composite material and features an integrated wakeboard hook.
​The foredeck is spacious and perfect for socializing, with plenty of room and seating. The mid and stern decks have integrated aluminium rails to which different interior modules can be attached, such as a sofa and table that can be converted into sunbed. With this modular interior you have the flexibility to create different layout possibilities for every need, such as wakeboarding and water skiing, fishing, diving, or relaxing. The foldaway driver's seat can be positioned to provide leaning or seated support.
Sustainability
The 100% electric propulsion system in combination with the low impact materials guarantee the X Shore boats have a minimal carbon footprint. The hull is made of flax fabric and recycled bottles and the deck surface is covered in cork, a material that is both lightweight and sustainable.
Enjoy the comfort of zero emission boating while protecting mother nature. Join us in what we believe is the future of boating – a clean, silent, fume free experience to explore some of the most beautiful places nature has to offer.
Eelex 8000
Planing | 225 kW e-motor| 185 km range | 65 kmh top speed | 40 kmh cruising speed
Eelex 8000
built for high performance
Eelex 8000
built for Watersports
How do you compare to combustion motorboats?
X Shore boats are almost completely silent, easy to maintain and with zero exhaust emissions. They are also extremely user friendly and basically impossible to steal (since there is no outboard motor to take off). On top of that, the operating costs are significantly lower for electrical boats. And just like electrical cars, the strong acceleration gives you great driving pleasure.
How long can I use the Eelex 8000 on a single charge?
It depends on factors such as weather conditions and how fast you're driving. Let's say you wake up on a sunny morning to a fully charged boat. If you decide you want to enjoy a calm day cruising around in slower speeds, you can go for more than 20 hours. If you want to take your friends out and show off the capacity of your new electrical X Shore boat, you can go for cruising speed in one and a half hour.
What maintenance is required?
Our boats are built with open design and easy-care materials, which combined with the electric engine means that maintenance elements are limited compared to traditional diesel/ petrol motorboats. A simple maintenance guide can be found in the boat manual, including guidance on cleaning and straight-forward maintenance check-ups to keep the boat at its best.
What's the max range? How far can you go at cruising speeds?
Eelex 8000 has a max range of 100 NM at lower speed, X Shore 1 has a max range of 50 NM at lower speed. At cruising speed, you can go more then 20 NM (depending on weather conditions) on a charge from 100% to 10%. When you reach 10% you go into limp mode, which means you can't drive the boat faster than 6 knots. This is to make sure you always have enough power to reach a charging point
How much emissions can I save by using an X Shore boat?
An electric boat produces zero exhaust emissions, so it causes zero pollution in the air and water when out at sea. Which is great for the environment, and it also lets you breathe in the fresh ocean air instead of fumes.
The emissions caused by the production of the electricity used to charge your boat will vary depending on what type of electricity it is. Renewable electricity sources, such as solar, wind and hydropower, produce minimal carbon emissions. If charged with the EU electricity mix, Eelex 8000 saves approximately 2 metric tons of CO2 emissions during a typical season of 50 hours on the water, compared to a high-performance ICE boat. Which is equivalent to approximately 80 trees planted.
When will electric boats improve their range?
We can't give you an exact answer to when the boats will improve their (already good) range, although we're constantly looking for ways to improve and optimize our product to make X Shore boats as efficient as possible.
But, if you're wondering if the range of X Shore boats will be enough for you, it probably is. Statistics https://www.skipperi.se/loggbok/tillstandet-i-nordiska-batlivet-2022show that the average Nordic boat trip is 17 NM, and the average speed over a season is 8 knots (source: Skipperi). Let us translate this into X Shore reality; With an Eelex 8000 you can go at full speed and still make it 15 NM. And driving in 8 knots you use very little energy, which means you would be able to reach almost 100 NM at that speed.
Address PO Box 94968, Abu Dhabi, United Arab Emirates
Email info@medasiamarine.com